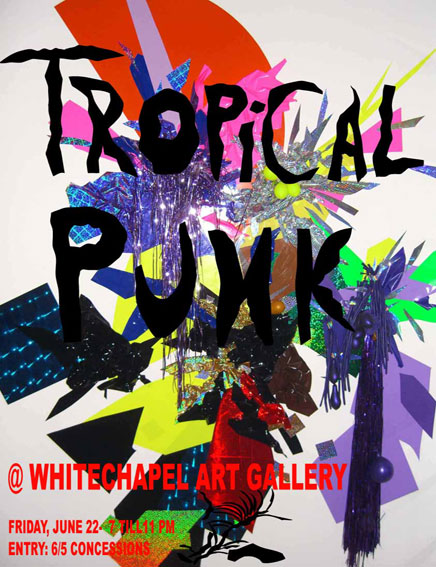 Tetine are proud to invite you for an evening of radical TROPICAL PUNK manifestations at The Whitechapel Art Gallery Late Nights on FRIDAY 22 JUNE from 7-11 pm!
Expect a cannibalistic hot evening of mixed media mayhem covering sound, film, art videos, performance, drawings and T Shirts.
Tetine themselves will be a playing an experimental punk funk carioca set to mark the night which also features a RARE screening of the ONLY unbiased RIO BAILE FUNK music doc 'I'M UGLY BUT TRENDY (2004) by DENISE GARCIA at the cinema gallery – think RIO female FUNK CARIOCA MC's and the whole structure of BAILE FUNK beat production and party politics.
Programme:
7:30 pm - I'm Ugly but I'm Trendy (60min) - Q&A with the director after the film session
Dir: Denise Garcia (Toscographics)
Rio's Funk is filled with MCs and bands formed by women. In the dance hall market, female performances are essential to the night's success. Tati Quebra-Barraco (Tati Shack Breaker) draws the crowd that sings along every dirty word. There are the Tchutchucas, Danadinhas, Bonde Faz Gostoso and many other "bondes" (dance and vocal ensembles) that make the audience go crazy with their wiggling. There's a bit of everything for every taste and the result is a party where thousands of youths repeat gestures, choreographs, lyrics and have fun! Rio de Janeiro is the stage for funk culture. According to its DJs the number of dance halls reaches 1000 on weekends. Involved in the production of those parties, there are sound crews, agents, DJs, owners and club employees, lighting crews, vendors selling food and drinks and a large audience. Finally, this is an economy being supported by the desire and talent of an enormous population that lives in the slums and suburbs of Rio. This film attempts to map the Rio de Janeiro funk universe from the point of view of female funkers, who are also mothers, wives, students, workers.
The event also presents a specially curated video programme featuring selected art/music videos by AVAF (a very anxious feeling), OBJETO AMARELO, TETINE, ALEXANDRE DA CUNHA, PAUL B DAVIS, AS MERCENARIAS, LUCAS BAMBOZZI, SOLANGE TO ABERTA, SEXO EXPLICITO, PIPA, MAURICIO IANES, RICK CASTRO, MICHAEL ARMS & RODRIGO GARCIA DUTRA – including a limited edition of a TROPICAL PUNK FANZINE with texts by PABLO LEON DE LA BARRA, RICARDO DOMENECK, SARA QUIN, BRUNO VERNER and collages by FABIO GURJAO, CASSIA TABATINI, TIAGO BORGES DA SILVA, GUILHERME ALTMAYER, ERIKA VERZUTTI and ADRIANO COSTA to mark the occasion.
WHEN: Friday / June 22
TIME: 7 to 11 pm
WHERE: WHITECHAPEL ART GALLERY
ADDRESS: WHITECHAPEL HIGH STREET, E1 7QX
ENTRY:£ 6/5 concessions £ 3 Whitechapel Members